Natural, Non-Invasive TMJ Treatment in Manhattan, KS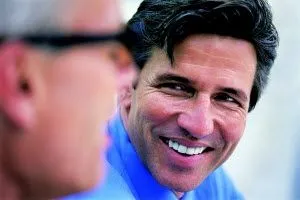 For people who struggle with TMJ disorder, just chewing food, smiling and talking can hurt—and nearly 40% of Americans struggle with this condition. TMJ stands for temporomandibular joint, which is the joint connecting your jaw bone to your skull. The joint and its supporting muscles enable you to move your mouth to chew, talk, yawn, etc. Sometimes, the joint and muscles become inflamed, which leads to TMJ disorder.
Symptoms include jaw pain and tightness, a popping or cracking sound when you open and close your mouth, earaches, headaches, neck pain, facial pain and swelling, and even lock jaw. Although many people turn to their dentists for help with TMJ disorder, it is not usually a dental problem, but a problem stemming from stress and poor neck posture—it can even be a side effect of whiplash. Our Manhattan TMJ treatment can get right at the root of the problem to provide lasting, natural relief.


Our Manhattan TMJ Treatment Gets to the Root of Your Jaw Pain
There are typically two main aggravators behind TMJ disorder: stress that leads you to clench your jaw involuntarily and incorrect, forward neck posture. Stress can also lead some people to grind their teeth in their sleep also known as bruxism. Many people do not even realize they are doing this, but it can put a great deal of stress on the TMJ, leading to its painful symptoms.
We can effectively and naturally treat both with chiropractic care and the other complementary therapies we use. Our Manhattan TMJ treatment relieves the jaw pain, lock jaw and other painful symptoms by helping you reduce your stress levels and restoring the correct neck posture so that your temporomandibular joint works properly and without pain.
Chiropractic care is an excellent solution for TMJ disorder because it alleviates one of the major causes: poor neck posture. We use gentle, precise spinal adjustments and iTracTM Therapy. These highly focused, gentle techniques bring your neck posture back into its natural position over a course of several sessions. This accomplishes two main goals: it will release pinched nerves and take mechanical stress off of your TMJ. Patients undergoing this TMJ treatment also usually notice a drastic decrease in headaches and neck pain.
Our multifaceted approach to TMJ treatment in Manhattan has helped hundreds of patients be able to eat, talk, yawn and smile comfortably again, all without any medication, surgery or uncomfortable overnight bite plates. Call us today at
(785) 537-2211
to set up an appointment!